Important Ticket Notice: Ticketmaster is Martin Marietta Center's only official online ticketing service. Tickets purchased from websites other than MartinMariettaCenter.com or Ticketmaster.com may be stolen or counterfeit and often carry service charges that greatly inflate the overall price of your ticket(s). When purchasing tickets online you should only purchase from websites you can trust: MartinMariettaCenter.com and Ticketmaster.com.
Where to Buy Tickets
Visit our Event Calendar for a full list of events. To purchase tickets click on the icon of two tickets located on the right side of the screen. 
Tickets are primarily sold online through Ticketmaster. Tickets are also sold in person at the Martin Marietta Center Box Office. When purchasing at our Box Office you will not be subject to any online fees. Ticket prices are subject to change based on demand.
To enable a contactless experience, we've gone cashless! Our venue box office* and concession areas will now only accept credit, debit, or mobile pay. *Please note, this policy may vary for resident company events.
Box Office Location
Our Box Office is located at 2 E South St. Raleigh, NC 27601 and directly in front of Raleigh Memorial Auditorium. 
Hours of Operation
Our current hours of operation are Monday through Friday, 10:00AM - 2:00PM. 
*Red Hat Amphitheater show tickets can also be purchased at our box office (excluding Wide Open Bluegrass, Band Together, and Hopscotch).  We do not sell tickets for Coastal Credit Union Music Park or other Live Nation venues.
Will Call Tickets
Will call Tickets can be picked up one hour prior to the scheduled performance up until the show starts.
SafeTix
Ticketmaster SafeTix are encrypted mobile tickets built with leading-edge technology, developed with you in mind, and come standard with powerful fraud and counterfeit protection.
SafeTix™ are powered by a new and unique barcode that automatically refreshes every few seconds so it cannot be stolen or copied, keeping your tickets safe and secure.
If you bought tickets for family, a friend, or a group, we made it easier than ever to safely send tickets to anyone. In just a few taps you can text or email your tickets to anyone attending the event with you.
Your phone is your ticket. Print-at-home tickets and screenshots of tickets will not be accepted. Use the steps below to access your tickets.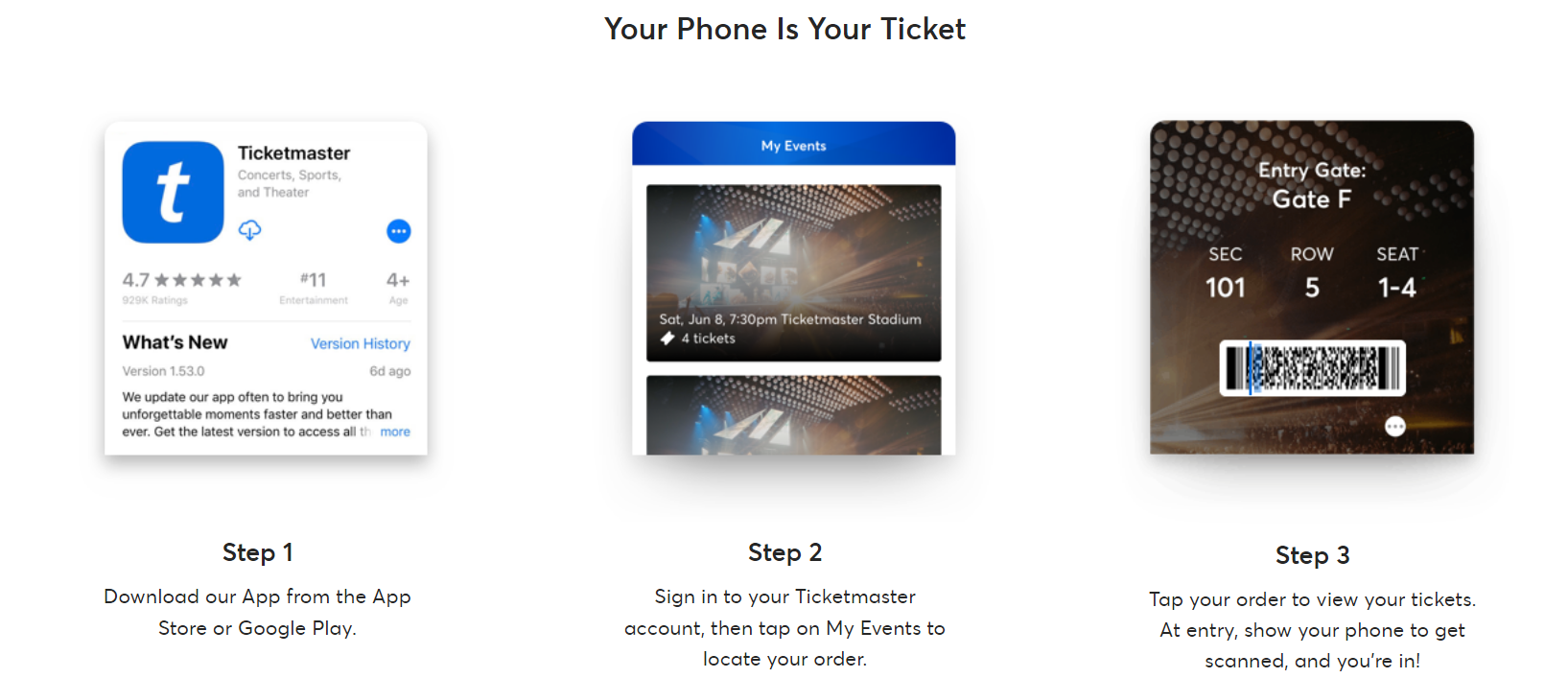 Ticket Delivery for iOS Users
If you are an iOS user storing tickets in Apple Wallet and encounter an error, please reference this article from Ticketmaster Help: My ticket isn't working in my Apple Wallet. What should I do?