We strive to provide an environment where all services, performances, and facilities are available to each and every one of our guests.
For additional questions or concerns regarding accessibility at the Martin Marietta Center, please Contact Us.
ACCESSIBLE PARKING
The parking deck located on the corner of Salisbury and South Street and both parking lots located directly across from the center on South Street have multiple accessible parking spaces.
DROP-OFF AREA
The drop-off area is located in the brick area, directly in front of Lichtin Plaza, in front of the building on South Street. Driving on Lichtin Plaza is strictly prohibited.
WHEELCHAIR ACCESSIBLE SEATING
ACCESSIBLE SEATING
Wheelchair accessible and companion seating is available in all venues at the Martin Marietta Center.
Our wheelchair-accessible seating is an open, level space that accommodates one person using a wheelchair. Up to three companion seats are also available next to each wheelchair-seating location. These locations will vary in location by venue.
PURCHASING ACCESSIBLE TICKETS
To purchase accessible tickets online, visit our Calendar and select the ticket icon for the show you are interested in attending. You will be redirected to Ticketmaster to purchase tickets.
1. On the right menu click on "Filters"

2. Click on the accessible icon and click 'Apply Filters'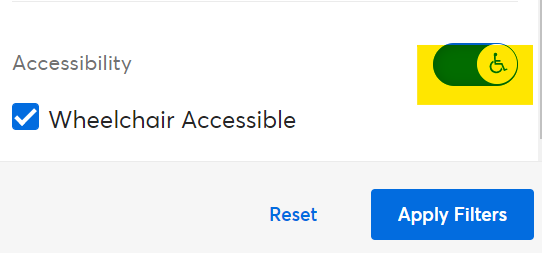 3. You will be able to select your seats and purchase your tickets from there. If you require assistance purchasing tickets for accessible seating, please contact us or visit the Box Office (open Monday through Friday, 10 am - 2 pm).
CERTIFIED SENSORY INCLUSIVE VENUE
We have partnered with KultureCity to improve our ability to assist and accommodate guests with sensory needs. Our objective is to provide an inclusive and seamless experience for all guests for all events including those with sensory needs. We strive to raise awareness of the needs and challenges faced by individuals with sensory processing disorders by supplying our Team Members with continuous training and by offering the resources and accommodations below to our guests.
Sensory bags containing special KCVIP badges, fidget tools, noise canceling headphones and other resources which are available for checkout (at no cost by leaving an ID) upon request at our Ticket Counters and Box Office located at the entrances of each of our venues.
Download the KultureCity App below to view our social story and be better prepared for attending a performance or event at one our venues.
App Store: http://bit.ly/KCiphone
Google Play: http://bit.ly/KCandroid
If you have any specific questions about KultureCity, please don't hesitate to email us directly at PAC.Info@RaleighNC.gov or fill out the below request form.
HEARING & VISUALLY IMPAIRED ACCOMODATIONS
Assisted Listening Devices are available in A.J. Fletcher Opera Theater, Meymandi Concert Hall, and Raleigh Memorial Auditorium at no charge. They are available in Kennedy Theatre when applicable.
We offer the traditional "radio" technology. To obtain a listening device, please see an Usher or Box Office Staff. A driver's license is required to reserve a device.
American Sign Language Interpreters are available upon request. Requests for this must be made two to three weeks in advance of the performance by completing the below webform on this page or by contacting pacfrontofhouse@raleighnc.gov
An Audio Description Service is also available courtesy of Arts Access. Requests for this must be made at least two weeks in advance. You can complete the below webform for these requests as well or contacting pacfrontofhouse@raleighnc.gov
A limited number of wheelchairs are available for guests on a first come, first served basis. A drivers license is required to reserve a wheelchair. Upon arrival to the Martin Marietta Center please see an Usher for assistance.
During a performance, if you would like to store your personal wheelchair or walker, an Usher staff member will be happy to store that in a safe and dedicated location in each venue.
Upon intermission, should there be one, and at the end of the performance our Usher team will return that item for your departure of the venue.
A.J. Fletcher Opera Theater
Main Level: The men's restroom is located on the west side of the Lobby (Raleigh Memorial Auditorium-side) and the women's restroom is located on the east side of the Lobby.
Balcony Level: Both restrooms are located on the east side of the Balcony Lobby.
Meymandi Concert Hall
Orchestra Level: Both restrooms are located in the rear hallway behind the Orchestra area.
Lower Balcony Level Main entrance floor. Both restrooms are located next to the main staircase.
Upper Balcony Accessible by the elevator located on the west side Salisbury Street-side of the lobby. Both restrooms are located on either side of the center Lobby staircase.
Raleigh Memorial Auditorium
Main Level: The newly renovated women's restroom can be accessed via ramp on the east side (Fletcher-side) of the innermost lobby. Men's restrooms and additional women's restrooms can be found in both hallways leading into the Dress Circle and Orchestra sections of the theater. 
Mezzanine and Balcony Level: The newly renovated restrooms can be found in the Balcony Lobby, which can be accessed by elevator located in the center of the inner lobby.
Please note that a gender neutral restroom is also available in the Inner Lobby of Raleigh Memorial Auditorium.
We provide a dedicated, secure, and clean space for breastfeeding moms with the Mamava Pod, located on the East side of the Meymandi Concert Hall lobby space on the street level. The pod can be accessed with the Mamava app or via the numeric keypad on the external lock (code:8008). 
Accessibility Request Webform