Fletcher Opera Theater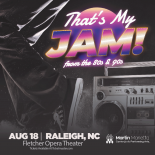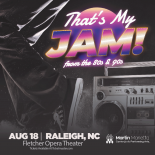 MIXTAPE will be pumping up the volume in 2023 with an all new tribute show "That's My Jam!" While our "Soundtrack of the "80s" show featured the best artists of the eighties, "That's My Jam!" takes it to the next level with a battle of the decades . . . 80's music versus 90's music. Who did it best? 80's Madonna vs. 90's Paula Abdul, 80's Journey vs. 90s Back Street Boys?

Dressed in 80's and 90's outfits, our nine-piece band offers an all-in sensory experience, engaging audiences with rockin' music, a themed set design, a stunning light rig, and a collage of video content to accompany each song. After each 80's versus 90's montage, audiences will vote for their favorite decade by shouting, That's my jam!?
Plan Your Visit
Further information for this show will be provided 24 hours prior to the scheduled time. 
Entry Requirements
*Face masks are encouraged.