Memorial Auditorium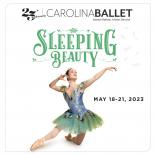 May 18 - 7:30 PM
May 19 - 7:30 PM
May 20 - 2:00 PM
May 20 - 7:30 PM
May 21 - 2:00 PM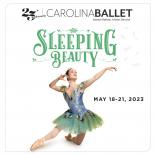 SLEEPING BEAUTY
FEATURING LIVE MUSIC BY
THE CHAMBER ORCHESTRA OF THE TRIANGLE
May 18-21, 2023
Robert Weiss' Sleeping Beauty with music
by PYOTR ILYICH TCHAIKOVSKY.
One of our favorite story ballets, where the forces of good triumph over evil! Based on the work of the Brothers Grimm, the world premiere was choreographed in 1890 by Marius Petipa, ballet master of the Imperial Ballet,
who wrote detailed instructions as to the musical requirements. 
*Tickets are required for everyone, regardless of age.
Plan Your Visit
Further information for this show will be provided 24 hours prior to the scheduled time. 
Entry Requirements
*Face masks are encouraged.