Fletcher Opera Theater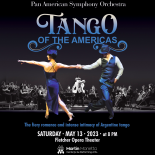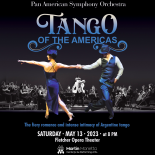 Now in Raleigh for the first time, the Pan American Symphony Orchestra promises to bring audiences a spectacular show of music that was born in the cultural melting pot of Buenos Aires, music that is a blend of poetry and music, drawing inspiration from the eternal themes of solitude, love, time passing, and celebration.
The soul of the tango is represented by the concertina-like instrument, the bandoneón, and this concert features two of the most talented bandoneón players in the United States, Argentine Javier Sanchez and Panamanian Heyni Solera.  And of course, no tango show is complete without the dance.  With award winning world class tango dancers complementing the tangos with their riveting, spell-binding performances,  this is a show you will not want to miss. 
Plan Your Visit
Further information for this show will be provided 24 hours prior to the scheduled time. 
Entry Requirements
*Face masks are encouraged.