Memorial Auditorium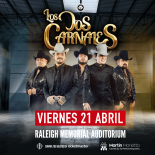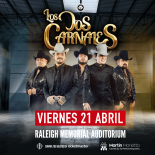 Beginning to play in bars, rancherias, markets and even in trucks, Los Dos Carnales were forging their path and musical career.  Although they grew up surrounded by music, it was until four years ago that they were invited for the first time to open a concert at La trakalosa de Monterrey in Parras de la Fuente Coahuila.  From that moment, they realized that they had been born to dedicate themselves to music and the stages, an occasion that was also of great help to consolidate themselves as a group.
With several songs having achieved Billboard's Top 10 Regional Mexican Airplay, Los Dos Carnales continues to bring it's core norteño sound - made possible by an accordion, four-string bass guitar, bajo sexto (sixth bass) and drums — that makes them distinctive in a crowded field of regional Mexican sounds.
_______________________
Comenzando a tocar en bares, rancherías, mercados y hasta en camiones, Los Dos Carnales fueron forjando su camino y carrera musical, a pesar de que crecieron rodeados de la música.  Fue hasta hace cuatro años que los invitaron por primera vez a abrirle a un concierto a La Trakalosa de Monterrey en Parras de la Fuente Coahuila.  Desde ese momento, se dieron cuenta que habían nacido para dedicarse a la música y a los escenarios, ocasión que también fue de gran ayuda para consolidarse como una agrupación.
Con varias canciones que han alcanzado el Top 10 de Billboard Regional Mexican Airplay, Los Dos Carnales continúan trayendo su sonido norteño central - hecho posible por un acordeón, bajo de cuatro cuerdas, bajo sexto y batería, que los hace distintivos en un campo abarrotado de sonidos regionales mexicanos.
Plan Your Visit
Further information for this show will be provided 24 hours prior to the scheduled time. 
Entry Requirements
*Face masks are encouraged.