Memorial Auditorium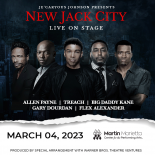 March 4 - 3:00 PM
March 4 - 8:00 PM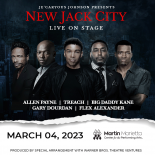 Je'Caryous Johnson's NEW JACK CITY - LIVE ON STAGE with Allen Payne as Gee Money, Treach as Nino Brown, Gary Dourdan and Flex Alexander, fuses the captivating thrill-a-minute story with the memorable lines everyone knows.  Fans will relive the non-stop drama of one crime family bonded by blood and forged together through friendship and audiences will be transported back to the early 90s when drug kingpin Nino Brown takes over the Carter apartment complex.
Plan Your Visit
Further information for this show will be provided 24 hours prior to the scheduled time. 
Entry Requirements
*Face masks are encouraged.