Fletcher Opera Theater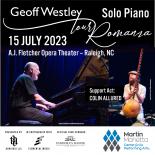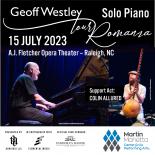 A concert of original music born out of Improvisations. Geoff presents music from his 2 albums for Piano Solo, from a new third album currently in preparation, and from other projects composed by him.
The music ranges from long rhapsodic pieces that make up the first album - the result of free improvisations, to the more recognisable classical forms found in the second: Passacaglia, Notturno, Pastorale for the End of Summer, Romanza, Preludio 4B, Wheelchair Waltz etc., as well as extracts from a recent project based on "Telephone Tales" by Gianni Rodari, a delightful collection of quirky short stories for children, and recently published in a new English translation by Enchanted Lion Books, New York.
The music is interspersed with anecdotes from a long career in music and recollections of some of the collaborations for which he has become known.
Presented by AUDIOGGI + Elemental Music Group 
Tour Sponsor: Pandora's Manor, High Point, NC
Plan Your Visit
Further information for this show will be provided 24 hours prior to the scheduled time. 
Entry Requirements
*Face masks are encouraged.