Memorial Auditorium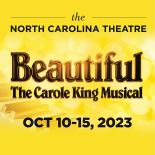 October 10 - 7:30 PM
October 11 - 7:30 PM
October 12 - 7:30 PM
October 13 - 7:30 PM
October 14 - 2:00 PM
October 14 - 7:30 PM
October 15 - 2:00 PM
October 15 - 7:30 PM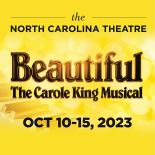 The Tony® and Grammy Award®-winning Carole King musical, BEAUTIFUL is the inspiring true story of one woman's remarkable journey from teenage songwriter to the Rock & Roll Hall of Fame. Featuring over two dozen pop classics, including "You've Got a Friend," "One Fine Day," "Up on the Roof," "You've Lost That Lovin' Feeling," "Will You Love Me Tomorrow," and Natural Woman," this crowd-pleasing international phenomenon is filled with the songs you remember—and the story you'll never forget. 
Plan Your Visit
Further information for this show will be provided 24 hours prior to the scheduled time. 
Entry Requirements
*Face masks are encouraged.