Memorial Auditorium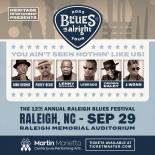 September 29, 2023
|
Friday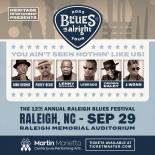 The Blues Is Alright Tour returns to Raleigh Memorial Auditorium, located at the Martin Marietta Center for the Performing Arts for the 12th Annual Raleigh Blues Festival on Friday, September 29 at 8 p.m. The Blues is musical storytelling filled with stark emotion and a revolving reality check. It's authentically raw; transforming tragedy, adversity, and heartache into a visceral and cathartic experience. This special night of emotive lyrics and guitar-driven accompaniment features performances by King George, Pokey Bear, Lenny Williams, Lebrado, Theodis Ealey and J-Wonn.
Plan Your Visit
Further information for this show will be provided 24 hours prior to the scheduled time. 
Entry Requirements
*Face masks are encouraged.